Improve The Atmosphere Of Your Home With Humidifiers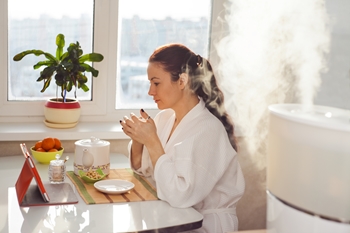 As their name implies, humidifiers function by adding moisture to the air inside your house. While this might sound a little uninteresting and lead you to question how adding one to your New Jersey home could actually change the atmosphere inside your house, there are actually a surprising number of benefits that come along with humidifier installation in this area. Although the name might not imply it, humidifiers in Edison and surrounding areas of New Jersey can actually help to both improve the overall energy efficiency of your home, and help to prevent illness and several other health concerns to a certain degree. When you are looking to install a new humidifier system in your home, you should always trust your service to a team of air conditioning company professionals who have a history of providing top quality service, and that is exactly what you'll find when you turn to the team of professionals at Exclusive Heating, Air Conditioning, Sewer & Drain Service.
While there are smaller, more portable versions of humidifiers that you can find in some stores that are designed for use in single rooms of the house, our team of indoor air quality service professionals can help you install a whole home humidifier that will cover all of the various rooms of your home. With the help of our team of professionals here at Exclusive Heating, Air Conditioning, Sewer & Drain Service, we can help you find and install the perfect new whole home humidifier system for your home perfectly suited to the particular needs of your home and your family. If you have any questions about our full line of high quality humidifier services, or if you would like to schedule an appointment for consultation with one of our specialists, give us a call today. Our team of experts are always standing by and would be more than happy to assist you in any way we can.
Benefits Of Whole Home Humidifiers in New Jersey
When it comes to whole home humidifiers, there are many homeowners out there who just aren't aware of the many benefits such a system can have on your home. Whether you realize it or not, dry air inside your home can have a number of negative effects on the condition of your home and your health in general. For instance, dry air can cause sore throats, cracked and itchy skin, dry noses, and it can also worsen the symptoms related to asthma and allergies, but with a whole home humidifier, some of the issues can be alleviated. Dry air can also be damaging to your property, causing plaster, paint wood floors, and furniture alike to all dry out and become damaged over time. Give our team of professionals a call today. Adding a new humidifier system to your home might just be one of the best investments you ever make.
If you are looking for whole house humidifiers in the Edison area, please call Exclusive Heating, Air Conditioning, Sewer & Drain Service at 732-287-6300 or complete our online request form.
Latest Articles

Warning: Use of undefined constant date - assumed 'date' (this will throw an Error in a future version of PHP) in /home/newjexclusive/public_html/wp-content/themes/EXCLUSIVE/page-iaq-services.php on line 35

4 Benefits Of Professional Drain Cleaning


Home maintenance is a very important part of being a homeowner, but unfortunately, most homeowners have a serious blind spot in their maintenance routine, and it tends to be their home's drains. Most homeowners don't give much through to their drain pipes until something goes wrong with them, and when that happens, one of the […]

Read More
What Does a Heating Tune-Up Include?


The HVAC system in your Woodbridge home produces warm air during the winter months to ensure that your household is comfortable. To prevent high energy costs and cold spots in your home, you should hire a heating and air conditioning contractor to perform a heating tune-up before temperatures drop every year. The Importance of Heating […]

Read More