Experienced Plumbing & HVAC Pros in Avenel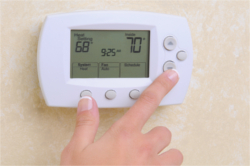 If the plumbing or air conditioning in your Avenel, NJ, home has begun suffering from issues, you could experience a definite decline in the quality of time in your home. To get that quality back, don't hesitate to call Avenel's plumbing and HVAC pros at Exclusive Heating, Air Conditioning, Sewer & Drain for our dependable plumbing and air conditioning services.
Fast, Thorough Sewer Repairs for Your Avenel Home
One of the most common and most frustrating issues that can plague your Avenel plumbing setup is sewage issues. But whether that issue is due to a clog, a collapsed pipe, or roots growing into the sewer lines, you can depend on our experienced team to get the problem handled. Our sewer repairs are quick and thorough, so they will get your home back in order in no time.
Keep Your Air Conditioning Running with Our A/C Repairs
When summer rolls around, the last thing you want to deal with is a sudden lack of air conditioning. But should you suddenly find your Avenel home without air conditioning, you don't have to sweat things. Instead, you can call Exclusive Heating, Air Conditioning, Sewer & Drain for a fast, no-nonsense air conditioning repair.
Latest Articles
4 Benefits Of Professional Drain Cleaning

Home maintenance is a very important part of being a homeowner, but unfortunately, most homeowners have a serious blind spot in their maintenance routine, and it tends to be their home's drains. Most homeowners don't give much through to their drain pipes until something goes wrong with them, and when that happens, one of the…

Read More

What Does a Heating Tune-Up Include?

The HVAC system in your Woodbridge home produces warm air during the winter months to ensure that your household is comfortable. To prevent high energy costs and cold spots in your home, you should hire a heating and air conditioning contractor to perform a heating tune-up before temperatures drop every year. The Importance of Heating…

Read More

If you are looking for a reliable sewer service, heating and air conditioning company in Avenel, NJ then please call Exclusive Heating, Air Conditioning, Sewer & Drain Service at 732-287-6300 or complete our online request form.