Dependable Plumbing & A/C work in Bedminster, NJ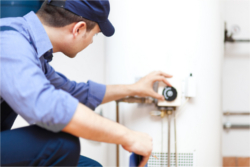 You can easily keep your Bedminster home's plumbing and air conditioning systems running like a dream for years to come. How is that? Easy: by calling Bedminster's plumbing and A/C pros at Exclusive Heating, Air Conditioning, Sewer & Drain. With our plumbing repairs and A/C tune-ups, we'll keep those necessary installations working their best.
Get Your Plumbing Working Again with Our Repairs
Plumbing issues are unavoidable and frustratingly common. Luckily, what's not frustrating is the process of getting your broken plumbing fixed. To do that, you just need to give your Bedminster plumbers at Exclusive Heating, Air Conditioning, Sewer & Drain a call. With our plumbing repair services, we'll get any part of your home's plumbing working again in no time.
Quick yet Dependable Air Conditioning Tune-Ups
The months and months that your air conditioning will run nonstop throughout the year can put some serious wear and mileage on it. And over time, this wear can pile up, leading to breakdowns. The good news: You can avoid costly and frustrating air conditioning breakdowns by giving us a call for routine air conditioning tune-ups that will help your A/C run like brand new for years to come.
Latest Articles
What Does a Heating Tune-Up Include?

The HVAC system in your Woodbridge home produces warm air during the winter months to ensure that your household is comfortable. To prevent high energy costs and cold spots in your home, you should hire a heating and air conditioning contractor to perform a heating tune-up before temperatures drop every year. The Importance of Heating…

Read More

3 Benefits of Video Pipe Inspections for Your Sewer & Drain Systems

For the longest time, identifying issues within your home's sewer or plumbing systems consisted of a great deal of guesswork and could often result in a great deal of damage to your home in the process. Fortunately, with advancements in technology over recent years, the process of identifying plumbing and sewer line issues within the…

Read More

If you are looking for a reliable sewer service, heating and air conditioning company in Bedminster, NJ then please call Exclusive Heating, Air Conditioning, Sewer & Drain Service at 732-287-6300 or complete our online request form.