Sewage and Air Conditioning Pros in Bayway, NJ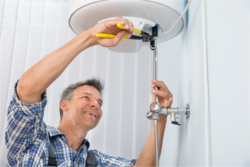 Whether you are experiencing sewer or air conditioning problems in your Bayway home, you can rely on the experienced pros at Exclusive Heating, Air Conditioning, Sewer & Drain to get those problems resolved. With our sewer and air conditioning repair services, we'll get your Bayway home's most important components working again in no time.
Unbeatable Sewer Services for Your Bayway Home
Over time, even the best-maintained sewer system can experience issues. Clogs, roots, collapsed pipes: All of these issues and more can occur, effectively leaving you unable to use your plumbing. Should sewer issues affect your Bayway home, you can easily get them rectified by calling our experienced team for a quick sewer repair.
Fast Air Conditioning Repairs That Will Get Your Bayway Home Cooled Down
After so many long, hot summers of nonstop use, your air conditioning could be too worn to go on any more, thus experiencing mechanical issues that leave you without A/C. If your air conditioning is in this kind of condition, you can rely on our experienced team to get it running and keep it running once more with our air conditioning repair services.
Latest Articles
What Does a Heating Tune-Up Include?

The HVAC system in your Woodbridge home produces warm air during the winter months to ensure that your household is comfortable. To prevent high energy costs and cold spots in your home, you should hire a heating and air conditioning contractor to perform a heating tune-up before temperatures drop every year. The Importance of Heating…

Read More

3 Benefits of Video Pipe Inspections for Your Sewer & Drain Systems

For the longest time, identifying issues within your home's sewer or plumbing systems consisted of a great deal of guesswork and could often result in a great deal of damage to your home in the process. Fortunately, with advancements in technology over recent years, the process of identifying plumbing and sewer line issues within the…

Read More

If you are looking for a reliable sewer service, heating and air conditioning company in Bayway, NJ then please call Exclusive Heating, Air Conditioning, Sewer & Drain Service at 732-287-6300 or complete our online request form.