Your Experienced Belleville Sewer & Air Conditioning Experts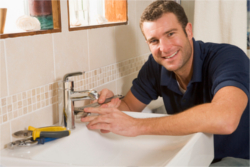 Without dependable sewer and air conditioning systems, your home in Belleville, NJ, would be decidedly far from comfortable. If you want to maintain the most comfortable home in Belleville, you need to maintain dependable sewer and A/C systems. And you can do that by calling the pros at Exclusive Heating, Air Conditioning, Sewer & Drain for our repair and tune-up services.
Sewer Repairs That You Can Count On
You'll use your sewer system every time you use your plumbing — which is bound to be a lot. This heavy usage can put some serious strain on your sewage, in time leaving it damaged and unable to be used. If your Belleville home's sewer system is in this kind of condition, don't hesitate to give us a call. With a fast yet dependable sewer repair, we'll get your sewer working again in no time.
Keep Cool with Annual Air Conditioning Tune-Ups
The summer months can take a serious toll on your air conditioning, and after enough summers, your A/C just might conk out on you, leaving you out in the cold — er, heat. Luckily, you can avoid this sweaty situation by calling Exclusive Heating, Air Conditioning, Sewer & Drain for annual air conditioning tune-ups that will help your A/C blow strong for many summers to come.
Latest Articles
4 Benefits Of Professional Drain Cleaning

Home maintenance is a very important part of being a homeowner, but unfortunately, most homeowners have a serious blind spot in their maintenance routine, and it tends to be their home's drains. Most homeowners don't give much through to their drain pipes until something goes wrong with them, and when that happens, one of the…

Read More

What Does a Heating Tune-Up Include?

The HVAC system in your Woodbridge home produces warm air during the winter months to ensure that your household is comfortable. To prevent high energy costs and cold spots in your home, you should hire a heating and air conditioning contractor to perform a heating tune-up before temperatures drop every year. The Importance of Heating…

Read More

If you are looking for a reliable sewer service, heating and air conditioning company in Belleville, NJ then please call Exclusive Heating, Air Conditioning, Sewer & Drain Service at 732-287-6300 or complete our online request form.